CCN gebouw
Vooruitgangstraat 80 bus 1
1030 Schaarbeek - Brussel

---
JDMA + Steven Bosmans ⤳ ALTSTADT ALTSTADT (office for architecture) is the new name for the collaboration between Jan de Moffarts (JDMA) and Steven Bosmans, a collaboration that's been two years ongoing. Under this banner, we will continue our ambition for spatially precise and conceptually clear projects, with heritage as a central theme.
---
Vacancies
ALTSTADT is looking for experienced (dutch-speaking) collaborators, with an interest in detailing and construction phase of projects.
Send your portfolio to
office@altstadt.brussels
---
---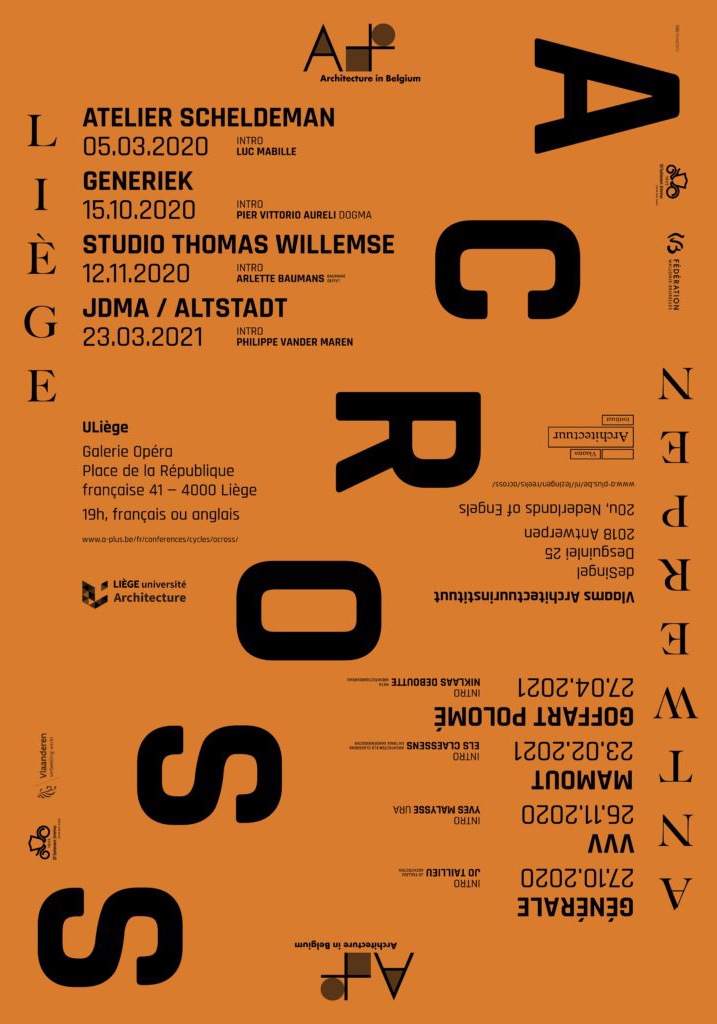 ---
︎︎︎ Publications
---
︎︎︎
Download︎ our yearbook, edition 2020
---
︎︎︎ Prizes
---
Gare Maritime selected for EU mies award 22!
ALTSTADT
... is the collaboration between Jan de Moffarts and Steven Bosmans, and as such the new name of JDMA. JDMA was founded by Jan de Moffarts in 2016, with the project for the restoration of the Gare Maritime at Tour & Taxis. Since 2018, he was joined by Steven Bosmans, one of the former principals at OFFICE KGDVS, as a conclusion of a period of occasional collaborations. Based at Gare du Nord they are working on diverse projects ranging from heritage reconversion to new construction.
As a collaboration and a studio, ALTSTADT seeks to combine a specific know-how in the restoration, reconversion and re-activation of historical buildings, with a skill, or perhaps obsession, for methodical and conceptually precise design. Heritage, as a built presence of the collective memory and therefore essentially public space, is a central theme but not a focus. The main ambition is making spatially precise, clear, and sensible projects, independent of the origins and scope of the project, with radicality and subtlety as alternating and mutually reinforcing intentions.
Within this framework ALTSTADT is working on projects and studies of all sizes and origins in Brussels and beyond, notably the restoration and extension of a historical rectory in Brussegem, a mixed-use industrial complex in Merchtem, the reorganisation of accesses to the Tour & Taxis park, the restoration of a castle near Namur, the reconversion of the Vynckiersite in Gent and the competitions for several cultural centres in Brussels. Collaborations with other practices, such as OUEST, 51N4E, NU architectuuratelier, ORG PER MOD, OFFICE KGDVS … as well as with academic institutions such as KUL and VUB, are an essential part in the web of activities. In these, ALTSTADT alternates between the roles of designer and advisor.
---
Directors
Jan de Moffarts
ir architect
+32 486 88 53 36
jan@altstadt.brussels
Jan de Moffarts (°1980) studied architecture at UGent and then specialised in urban planning at the KULeuven. He started his career at Stéphane Beel in Ghent in 2005, then worked as project manager at Origin Architecture & Engineering. In 2015, he founded his own office JDMA, with the Gare Maritime project on the site of Tour & Taxis. Jan de Moffarts is a practice assistant at the Sint Lucas KULeuven Architecture Department in Ghent and Brussels.
Steven Bosmans
ir architect
+32 486 10 47 00
steven@altstadt.brussels
Steven Bosmans (°1983) studied architecture and urban design at the University of Ghent. Between 2007 and 2018 he was one of the principals at OFFICE Kersten Geers David Van Severen, where he was responsible for various projects of all sizes. In 2018 he joined forces with Jan de Moffarts. He teaches architectural design at the UGent.
---
Collaborators

Renata Radovanovic
M. Arch
renata@altstadt.brussels

Michael Langeder
M. Arch
mike@altstadt.brussels
Clément Guérard-Ortelli
M. Arch
clement
@altstadt.brussels
Gabriel Vives
M. Arch
gabriel@altstadt.brussels
Zeynep Topcu
M. Arch
zeynep@altstadt.brussels

Clémence Marchal
M.A Art History
clemence@altstadt.brussels

Fatme Hassan
M.Arch
fatme@altstadt.brussels

---
Former collaborators
Ivana Vasilijevic
Phaedra Berkvens
Albertina De Pelsmacker
Thibaut Boidin
Kjell Keymolen
Rutger Vanhoef
Karen Vannieuwenhuyze
---
2020
---
TaDa toekomstatelier Workshop with Willem Jan Neutelings for children of Molenbeek at the Gare Maritime
Arcadia Patrimoine Industriel Revisité Visite avec expert La Gare Maritime
Korei Trek erop uit in Brussel De Gare Maritime Tour & Taxis
---
2019
---
Archiweek. Guided visit to the Gare Maritime
Impossible Talks. Roundtable at the start of the exposition "Impossible Design" Musee du design ADAM Bruxelles
Book launch A+278 Geleide rondleiding in de Gare Maritime.
Brussels Biënnale of Modern Architecture
Architects' houses. Nieuw woonplezier in een 19dee Eeuws pand Raadstraat Elsene. met Evelyne Van Harelbeke
---
2018
---
Guest lecture BRU.S.L.XL studio @ Sint-Lucas Brussels

Restauratie en Meesterschap. Lecture for Archipel, Filmplateau Ghent
---
2017
---
Guest lecture on applications of concrete in restauration. University Hasselt, Faculty of architecture

---
2016
---
Brussels Biennale of Modern Architecture

Brussels Biennale of Modern Architecture. Rondleiding door de Noord zuidverbinding, central station en het RTT gebouw

---
2015
---
Seminar Circular Building Design, group Transform VUB

Lecture at architecture week, faculty of architeture at VUB Brussel

---
2014
---
Invited workshop regarding "Postwar building materials" by VUB / WTCB

Lecture at "I Am Architect": on the project "Ieder Zijn Huis"